I've surrounded myself with quite a few books checked out from the library. These are the couple I'm hoping to read in the next few days.
My book clubs have come to a close for the year and there is nothing to slow my reading momentum!!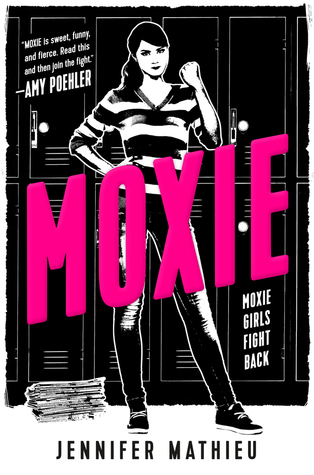 Moxie – Jennifer Mathieu
This is the book I'm the most excited to keep reading throughout the week. Girls in a Texas high school that are finally taking a stand against the sexism occurring in their town.
I'm super ready to finish this girl power novel.
My best friend was in town recently and I bought her this book for her birthday. I hope she's reading it soon, too.
The Best We Could Do – Thi Bui
This is a graphic memoir. It's been on my list of things to read for a while but I've never really been in the mood for sad. There is never a good time for sad but I'm hoping there is an inspiration message to pass on when it closes.
Will report back if it is just sadness.
All's Faire in Middle School  – Victoria Jamieson
Roller Girl was one of my favorite graphic novels that I (finally) got a chance to read earlier this year. This is the author's newest book and I've heard book reviews from co-workers.
I've started this one already and am not loving it more than Roller Girl. 
The main character is cute. We will see where the story goes.
There Are More Beautiful Things Than Beyonce – Morgan Parker
This is a collection of poetry that I wouldn't have known about at all without the help of the Goodreads Choice Award. It is a finalist in the poetry genre. The title really spoke to me.
I haven't even cracked the spine on this one yet.
I've been looking for some poetry to sink my teeth into.
Swing It, Sunny – Jennifer L. Holm
Earlier this week I was looking for something short to finish on my lunch break at work. Like Roller Girl, I had meant to read Sunny Side Up since discovering the Raina Telgemeier books.
This is the sequel to that book.
I think I'm going to do a master post of Smile-adjacent books…
Wishtree – Katherine Applegate
I had to work today (I know – working on a Saturday seems unfun) but it was fun as usual because of my co-workers. One of my favorite librarians that I only see on the weekends works as the elementary school library in the next town over. She told me she finished this one a few weeks ago and absolutely loved it.
I'm assuming I will too.
DIGITAL DOWNLOADS
This Is Really Happening – Erin Chack
I'm listening to this one after having bought the physical copy for the library months ago.
I saw that the audiobook was short (a little over 4 hours long) and thought it would be nice and easy to listen to while I was working out and, you know, writing this.
So far it has been fun. I do not regret this check out.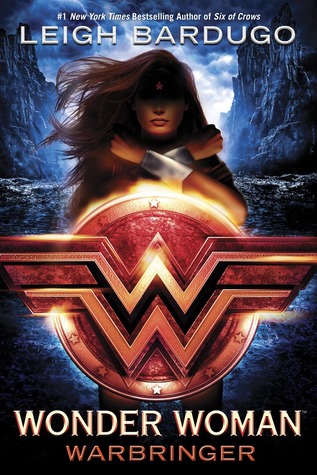 Wonder Woman: Warbringer – Leigh Bardugo
The wait list on this sucker is longer than my Christmas wish list (which isn't that hard to manage) so I'm going to get through it as quickly as I can.
Watching Wonder Woman earlier this year was an amazing experience. I cried in the theater because I was so overwhelmed with pride. This book has a lot to live up to…I hope it can do it.
The Virgin Suicides – Jeffrey Eugenides
Recently, I read Dear Fahrenheit 451 (loved it) and the author, Annie Spence, talked endlessly about this book. It was very clear that this was her favorite book of all time.
I've never tried it before and thought it was about time.
The movie was good. Stereotypically, the book is usually better, right? I imagine that will be the case.
Atonement – Ian McEwan
This book is the one I'm reading to make me feel like an adult. I've been reading so much YA lately and when I meet with my older ladies in book club I always feel nervous that I won't be able to recommend things for them to read.
It's am older title but I think this is one of those books that people remember and re-read. I checked out the audiobook. Unlike most, I find my mind drifting more than I would like it to.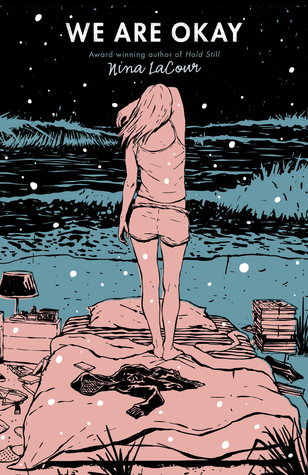 We Are Okay – Nina LaCour
Honestly, I've been on hold for this book so long I don't even remember what it was that made me want to read it.
TBD if I will read this one.
It seems like something I will like and will try to do a post about.
Camp So-and-So – Mary McCoy
Above I said there were no book clubs I was reading for but that was a little untrue. I have a personal book club that is due by the end of next month. I picked this book after reading a glowing review.
Something fun like this seems like a good way to spend Thanksgiving.