I run a fiction book club at my library. This month's book was Big Little Lies by Liane Moriarty. While I was pulling books last night for the book club ladies to read it occurred to me that this would make a good blog post!
We chose the book club book for this month before we knew the HBO show was coming out around the same time. The book club loved connecting to two and talking about what they liked and disliked about each.
Reconstructing Amelia by Kimberly McCreight
Plot Summary: The story of a mother reconstructing her teen daughter's life (emails, texts, social media, etc) to figure out what happened during the last days of her life. Unable to cope with the fallout of cheating at school, Amelia apparently jumped from the school's roof to commit suicide. That is what her mother, Kate, believes until she gets an ominous text: "She didn't jump."
Similar Appeal Factors: Single mother's story; private school; troubled children; secrets; solving the crime alongside the author
—–
Bittersweet by Miranda Beverly-Whittemore
Plot Summary: Mabel doesn't belong to the community that she finds herself in on scholarship at a prestigious college. Her roommate, Genevra, invites Mabel into her privileged world for the summer and Mabel starts to become part of the community after all. But at what cost? Mabel begins to learn the shocking secrets and ugliness of a world she doesn't belong to.
Similar Appeal Factors: exposing privilege; outsider fitting into a new community; high society; suspenseful; violence; secrets
—–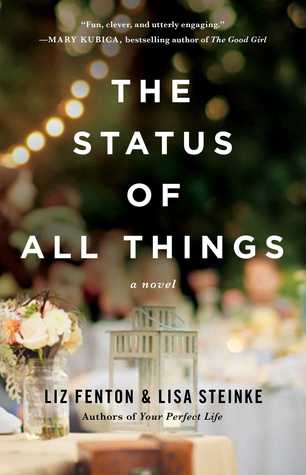 The Status of All Things by Liz Fenton & Lisa Steinke
Plot Summary: Think you're obsessed with social media? Meet Kate. Updating her Facebook is one of the most important things in Kate's life. Shortly after being practically left at the altar, Kate discovers that her real life starts to mirror whatever she posts of Facebook. But what will Kate do with this newfound power when she's still attempting to get over her ex-fiance and continue to navigate her less-than-perfect life?
Similar Appeal Factors: obsession with perfection; social life vs. real life/image vs. reality; friendship
—–
The Husband's Secret by Liane Moriarty
Another one by Liane Moriarty! All of the ladies in book club who had read her before said this one is their favorite.
Plot Summary: One day Cecilia finds a letter from her husband to be opened after he's died. The letter is meant as his after-death confession of all his deepest secrets he couldn't share. And they're all there on the page. Does Cecilia read them and risk hurting her seemingly perfect life as a businesswomen and community member? And just how earth-shattering is her husband's secret?
Similar Appeal Factors: writing style; suspense; complicated domestic relationships;
Let me know if there are any other books similar to Big Little Lies that you think I should read!